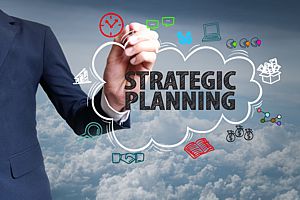 Strategic Planning
Our approach to the strategic planning process is that of facilitator, coach and teacher. In addition to assuring that your organization develops a viable plan, Bohse gives you specific tools to carry out your plan, and enables you to progressively manage this continuing process on your own.

The Bohse Team guides you through the strategic planning process by:

Reviewing the organization's mission, vision, and values and then--after careful refinement of these core elements--determining the major goal areas to focus on

Working with you to develop short- and long-range measurable and achievable goals related to Board development, fundraising, marketing, new services, and client relations

Developing one to three year plans, identifying potential obstacles, and devising a game plan to manage the opportunities and challenges on the horizon

Creating specific, tactical steps to achieve your goals by helping you prioritize, establish timeframes, assign due dates and the responsibility for each step

Tailoring the recommended strategies and actions to your organization and Board to ensure that the action plan is realistic, achievable and affordable

At the end of the process, the Bohse Team will furnish you with a finished plan, both electronically and in hard copy. The Bohse Team will stay with you for six months once the plan is complete to answer questions and address your issues.
Strategic planning is not very mysterious when properly explained. This course utilizes a plan designed specifically for and used by more than 6,000 non-profits in the US and abroad. Unlike some planning processes, ours is easy to understand and designed for ease of implementation.
Our most popular strategic planning workshops are:
How to Create Your Strategic Plan
Our facilitated strategic planning workshop will cover a review of your mission, vision and values statements, a discussion of the components of a strategic plan (including goals, programs, fundraising and administration), a look at annual goals plus 1-3 year and 3-5 year goals, tactical plans related to goal areas, and plan monitoring tools for effective implementation. This workshop is offered in two formats:
A basic, half day of instruction on how to create a strategic plan including blank forms and tools for you to develop your own plan.

A comprehensive, 2-3 day workshop in which you will be guided to create your own draft plan using our forms and tools.
Demystifying Strategic Development

Many planners do not understand the importance of strategic development or what strategies really are. This workshop helps participants understand how to shape approaches that best fit their budget, and identify resources that are necessary for strategic growth and future programming.
Brainstorming for Effective Planning

Before you write a plan, you should invest time in brainstorming as a team. Our easy-to-follow review of the fundamentals of team-based brainstorming shows you how to build a team that can deliver results, and how to capitalize on the results from your brainstorming session.
Making Your Plan Work Post-Approval

Many organizations invest in time to create a strategic plan but never use the plan as a management tool. This training and facilitation session will enable your organization not only to institutionalize planning, but to realize the full benefit from the plan.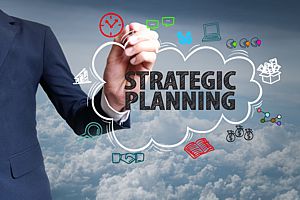 "It was a distinct pleasure to work with Pat Bohse and Bill Bennington. Strategic planning is not an easy process as it takes all stakeholders to be involved to make it work. However, Pat and her team provided professional expertise while patiently guiding all of us through each step, making sure we stayed focused on our goals. Always available as well as attentive, they listened to our needs, our challenges and our successes to craft a plan that is uniquely ours. Thank you to Team Bohse as Morris Habitat now has a great road map to increase the numbers of families we serve over the next four years."
Blair Schleicher Bravo
Executive Director
Morris Habitat for Humanity