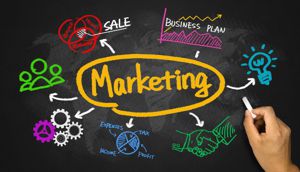 Marketing
Many people assume that marketing is just advertising, but it is so much more. Successful marketing creates a demand for services and/or products. Our marketing workshops help our clients to conduct research, set goals, define their image and develop a results-oriented marketing plan. You will also learn promotional techniques and how to evaluate your marketing efforts and their return on investment (ROI). Marketing is imperative to the sustainability and growth of your organization!
All workshops are available as half-day or full-day presentations.
Marketing is Everything and Everything is Marketing
"Our Marketng is Everything" workshop will teach you the elements of a marketing plan, the importance of having one and how to create one. We will review the 6 P's that are the backbone of every marketing plan: Place, Products, People, Price, Production and Promotions. We will also explore a variety of marketing tools to help implement your plan.
The 6 P's of Marketing
This workshop focuses on the 6 P's of Marketing: Price, Place, People, Production, Promotion and Products. Topics will include:
How to develop a consistent message for your organization
Insure you are properly "branded"
Identify your target audience
Develop an overall marketing, public relations & communications strategy