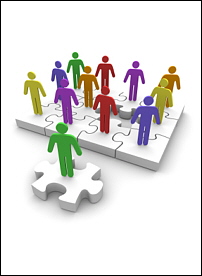 Staff Development
Bohse & Associates stands ready to provide innovative resources and solutions that will assist you in maximizing the potential and effectiveness of your staff.
We will work with you to "grow" your employees, identify internal issues that may be preventing your staff from functioning as a team, and then help both the organization and the individual to get to the next level. Bohse can help your organization by understanding management styles, assessing skills and professional goals, providing training, and facilitating conflict resolution.
Staff Development
An organization is only as good as the staff who works for it. Your staff's ability to understand how to develop a good relationship with your customers/clients and funders is the key to your organization's success. In this competitive environment are you confident that your staff is functioning to their optimum performance? What steps are you taking to ensure that your most valuable aset, your staff, has the knowledge and tools they need to work collaboratively, building relationships with internal and external customers to drive the mission and vision of your organization?

Bohse & Associates provides a customized process to help you reach this goal. We schedule an appointment to meet with you to discuss your goals and desired results. We conduct an in-depth analysis of the issues including a site visit to understand the mission, work culture, unique needs and challenges of your organization. Bohse & Associates will provide your organization with a solution specifically designed to meet your organizations needs and reach your desired results.

Bohse & Associates offer staff and management training as well as leadership and executive coaching designed to take your staff to the next level of service ecellence. Each training and coaching solution is customized to meet your objectives with a focus on the development of each staff members in a way that empowers them to peak performance.
Assessment-Driven Learning
Bohse & Associates is an "Everything DISC Authorized Partner"—a pioneer and leading provider of assessment-driven learning solutions. These assessment tools are designed to provide feedback to help people understand their personal styles, develop as effective managers, ease frustration and conflict in the workplace. Before assessing your staff, Bohse does extensive pre-presentation work including site visits to get to know you and understand the mission and culture of your organization. We do this so that we have a clear picture of the issues that are important to you. These tools can be administered in an electronical form using EPIC, the Electronic Profile Information Center. Bohse currently administers the following assessment tools and provides customized reports and workshops on each one:

Our assessment services include:


DiSC® Classic 2.0

DiSC® is the personal assessment tool validated through use with nearly 50 million people worldwide. DiSC® helps individuals assess to what degree they utilize four primary dimensions of behavior: Dominance, Influence, Steadiness, and Conscientiousness. DiSC® Classic 2.0 can help employees at all levels understand the strengths and challenges of their behavioral style. It also allows them to see how other types of people may have different but equally valid preferences.


Team Dimensions Profile®

The Team Dimensions Profile® is a unique, self-directed learning tool that helps individuals work from their strengths by identifying their most natural team role: Creator, Advancer, Refiner, Executor, or Flexer. Team Dimensions® helps reduce team stress and conflict, matches individual strengths with roles, encourages innovation and problem-solving, and reduces project cycle time.


Everything DiSC Workplace® Profile

The Everything DiSC Workplace® Profile helps build better relationships - one relationship at a time. The Everything DiSC Workplace® Profile can be used with everyone in an organization, regardless of title or role, to improve the quality of the workplace. Participants understand and appreciate the styles of the people they work with. The result is more effective and productive working relationships.


Work Expectations Profile®

Employers and employees both need to have clear expectations on work issues, including salary, hours of operation, job descriptions, career growth, teamwork, and autonomy. The Work Expectations Profile® helps people explore 10 critical work expectations. By defining these expectations, you can improve employee performance and increase job satisfaction.


Time Mastery Profile®

Productivity and efficiency levels rise whenever individuals learn to manage their time and set realistic priorities. The Time Mastery Profile® is a tool that evaluates effectiveness in 12 critical areas including attitudes, goals, priorities, procrastination, team time, and planning. By managing time effectively, communication improves and project deadlines are more likely to be met.


Personal Listening Profile®

The Personal Listening Profile® helps people identify which of five listening approaches they use to process, organize, store and retrieve information: Appreciative, Empathic, Comprehensive, Discerning and Evaluative. It also helps assess when your own approach may not be appropriate based on the situation, and which approach can be adopted for more successful communication.


Succession Planning

Do you know what will happen when your Board chair, executive director, or key staff member leaves your organization? More and more funders are requiring organizations to have a Succession Plan in place in order to be eligible for assistance. This is especially true if your current Board Chair or executive director is your organization's founder. The Bohse Team can assist you in creating a succession plan.


Off-Site Retreats

The Bohse Team can facilitate off-site retreats for staff and/or Boards. Our clients most often use this time for long range planning, to surface internal issues and needs, or for conflict resolution.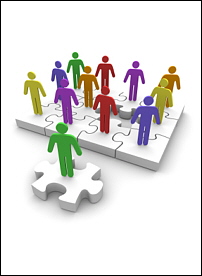 "Thank you for the powerful presentations you made to the staff. I have received nothing but positive feedback from staff. They gained some valuable insight toward different behavior styles and how these styles can work together. Your message will enable them to respond more effectively to the various situations and styles they may encounter from day to day. Thank you."
Carol Novrit
Director
Sussex County Health and Human Services, Administrator